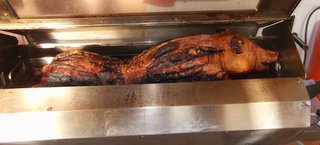 Hog roast Kelbrook have recently catered for a wedding party of 100 people. The booking came shortly after we finished a previous event which our client attended and was overwhelmed at the amount of effort and the quality of food which was offered, so he decided to book us for his wedding a few weeks later. Hog roast Kelbrook carefully cooked the hog off-site ready for a 5:00pm serve (which the client had requested). The venue was a big country style house near the centre of the village.
We arrived around 3:30pm to get our equipment set up and to meet our client, Sam. Sam the newly-wed kindly greeted us and showed us to the part of the house where we would be setting up ahead tonight's event. Everything went smoothly and guests started arriving at around 4:00pm, upon entering the venue, everybody was paying immediate attention to our hog roast. At around 5:00pm everybody stood up and came for the piece of the hog roast with a lot of people coming up for seconds.
After everybody had eaten, Sam stood up to give a short speech and praised hog roast Kelbrook on the amount of effort that has been put in to make the event such a success. Hog roast Kelbrook also had a lot of good feedback from the guests on the night as well as some people phoning up to enquire about us catering at their event.
If you would like a quote, some insight into what we offer or to hire out one of our machines, please click here.